Foxbrier is a 940-acre family farm located in the rolling piedmont hills of South Carolina. Originally a part of a old land grant, Foxbrier has seen numerous owners and many uses during two centuries of farming. Before that, Native Americans used the land for over 10 millennia.

When the Burns family took ownership in 1965, they set about enlarging the original farm and diversifying its uses.

Today, Foxbrier is a working cattle ranch, featuring Angus and Galloway cattle. We grow our own hay, most of which is used as cattle feed. We also maintain a small herd of horses for use on our extensive trail system and we host equestrian events for recognized organizations.

Much of Foxbrier has been returned to a natural state with over one-third of its acreage set aside as a wildlife refuge. Here teachers and students can take part in outdoor educational activities.

The name Foxbrier Farm derives from the fact that the farm was overgrown in brier thickets and filled with foxes when the Burns family settled here.
The land of today's Foxbrier lies in the heart of a 1772 land grant of 1500 acres from King George III of England to wealthy planter and merchant Peter Porcher of Charleston.
Points of Interest
Welcome to Foxbrier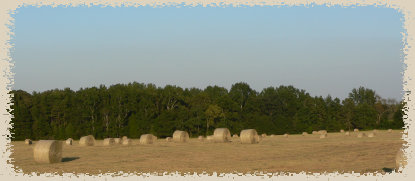 Blending nature, education, and equestrian activities with the family farm
Profile
Home